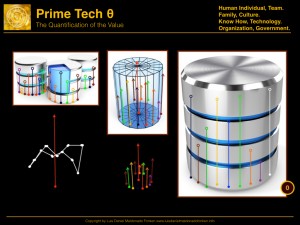 Quantification of the Value
GOAL:
To identify the value of the subject of analysis, as for its impact in the overall development of your aims, while evolving by playing a role, function or responsibility.
A business for example, impacts culture, peace and life around, as well influences civilization or culture development, and the creation of an heritage for future generations.
But a business itself, play a role for own share holders and employees.
Employees, projects, organization, business culture, know how, technology, play also a role for the organization.
According to case, certain culture traits will condition the performance.
For HHRR for example, it is extremely important to find out the status in terms of development, of an employee, and the value or capacity of him/her/it for the organization long term in relationship to the investment necessary for performance enhancement.
PROCESS:
Register via our website (Register form in this page)
Along an information session we will describe in details how the quantification of value will be developed.
After your agreement we will define a place, date and time defined for the quantification of value process.
KNOW HOW
For the quantification of value, we utilize an advanced Prime Tech Theta Standard and utilize the Matrix 9+ system of analysis. More details about the know how and tools used will be provided along the information session.